Rubicon / Meeks Bay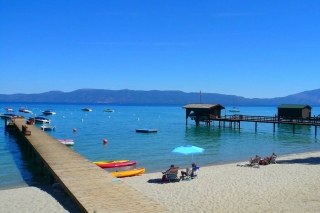 Lake Tahoe's "Gold Coast" is both quieter and filled with beauty. Located between Emerald Bay and Sugar Pine Point State Park, the peaks of the Sierra Nevada come right to the edge of Lake Tahoe. The area is typified by cliffs, large boulders and several spectacular "golden" beaches giving the lake brilliant colors ranging from aquamarine to deep blue. "Old Tahoe" homes and cabins offer attractive prices both on and off the lake.
Recently Listed Rubicon / Meeks Bay Homes For Sale
View all Listings
Beds: 4 Baths: 3.5 Sq Ft: 3425
Exceptional Lake View Tahoe Mountain Home. Enjoy this finely crafted home with lake views from almost every room, large beams & log accents....
Details
Beds: 3 Baths: 2.0 Sq Ft: 0
Step back in time with this extensively remodeled and carefully detailed rustic log Old Tahoe home nestled in a private setting with Forest Service...
Details
Beds: 3 Baths: 3.0 Sq Ft: 2374
A stunning home with views of Lake Tahoe to match. Gorgeous finish work accent this spacious mountain home. 3 bedrooms and 3 baths with a loft...
Details
View all Listings